Regular price
$16.00
Sale price
$12.80
Unit price
per
Sale
Sold out
Cookie Club
Join to earn
points from this item
The Imposter is back! Disguised as dough this time! If you are a fan of our Vegan cookie, then you will surely be a fan of the dough! The Imposter is a vegan chocolate chip cookie laced with crunchy bits of toasted coconut. The dough features a vegan chocolate frosting core.
🍪 How To Eat

You can eat the dough raw! The cookie dough is made with special ingredients, making it safe for consumption straight out of the package.

For a softer dough experience, let thaw for 5-10 minutes, or microwave for 15-20 seconds. 

All F&W products are made with the highest quality ingredients.
🧑‍🍳 Baking/Storing Instructions

You can use the dough to make cookies too! When baking, form dough into a ball (size is based on your preference), and bake at 350 degrees for 8-12 minutes depending on your preferred cookie doneness.

The dough does have an ooey gooey core, so make sure you add some of that to your baking experience. 

Storing Instructions

We know you'll want to eat the dough all at once, but if for some reason you cannot finish it in one sitting, here is how to store the dough:

On the counter at room temperature (3 weeks)
In the fridge (6 weeks)
In the freezer (1 year)

Important Note

PLEASE NOTE - THE COOKIE DOUGH CAN REMAIN UNCHILLED FOR UP TO 14 DAYS IN TRANSIT. IF THE DOUGH ARRIVES WARM, DON'T WORRY, IT'S STILL SAFE TO EAT! IT'S PERFECTLY NORMAL FOR THERE TO BE LEAKAGE OR OIL ON OR INSIDE THE JARS AND BOX. PLEASE SEE STORING INSTRUCTIONS ABOVE, BUT MOST OF ALL, ENJOY! THANKS FOR GETTING FAT AND WEIRD WITH US!
🍫 Ingredients

Base: chocolate chip cookie
Core: vegan frosting
Mixins: toasted coconut & chocolate

Ingredients: WHEAT FLOUR, BROWN SUGAR, DAIRY FREE CHOCOLATE CHIPS (EVAPORATED CANE JUICE, NATURAL CHOCOLATE LIQUOR (NON-ALCOHOLIC), NON-DAIRY COCOA BUTTER)), COCONUT OIL, ENJOY LIFE DARK CHOCOLATE MORSELS, COCONUT, APPLE SAUCE (APPLES, ASCORBIC ACID), COCONUT MILK (COCONUT MILK, WATER, GUAR GUM), VANILLA EXTRACT (WATER, PROPYLENE GLYCOL, VANILLIN, CARAMEL COLOR, 0.1% SODIUM BENZOATE (ADDED AS A PRESERVATIVE), PHOSPHORIC ACID, AND ETHYL VANILLIN), VEGETABLE OIL, BAKING POWDER (SODIUM ACID PYROPHOSPHATE, SODIUM BICARBONATE, CORNSTARCH, MONOCALCIUM PHOSPHATE), SOY LECITHIN, SALT, TABLE
🥜 Allergens

Contains: Wheat, tree nuts, soy.

Cookies processed in a facility/may contain: Dairy, Eggs, Tree Nuts, Peanuts, Wheat, Soy
⏪ Refund / Cancellation Policy

All sales are final. We do not offer refunds or cancellations. Stock is extremely limited and made fresh to order.
View full details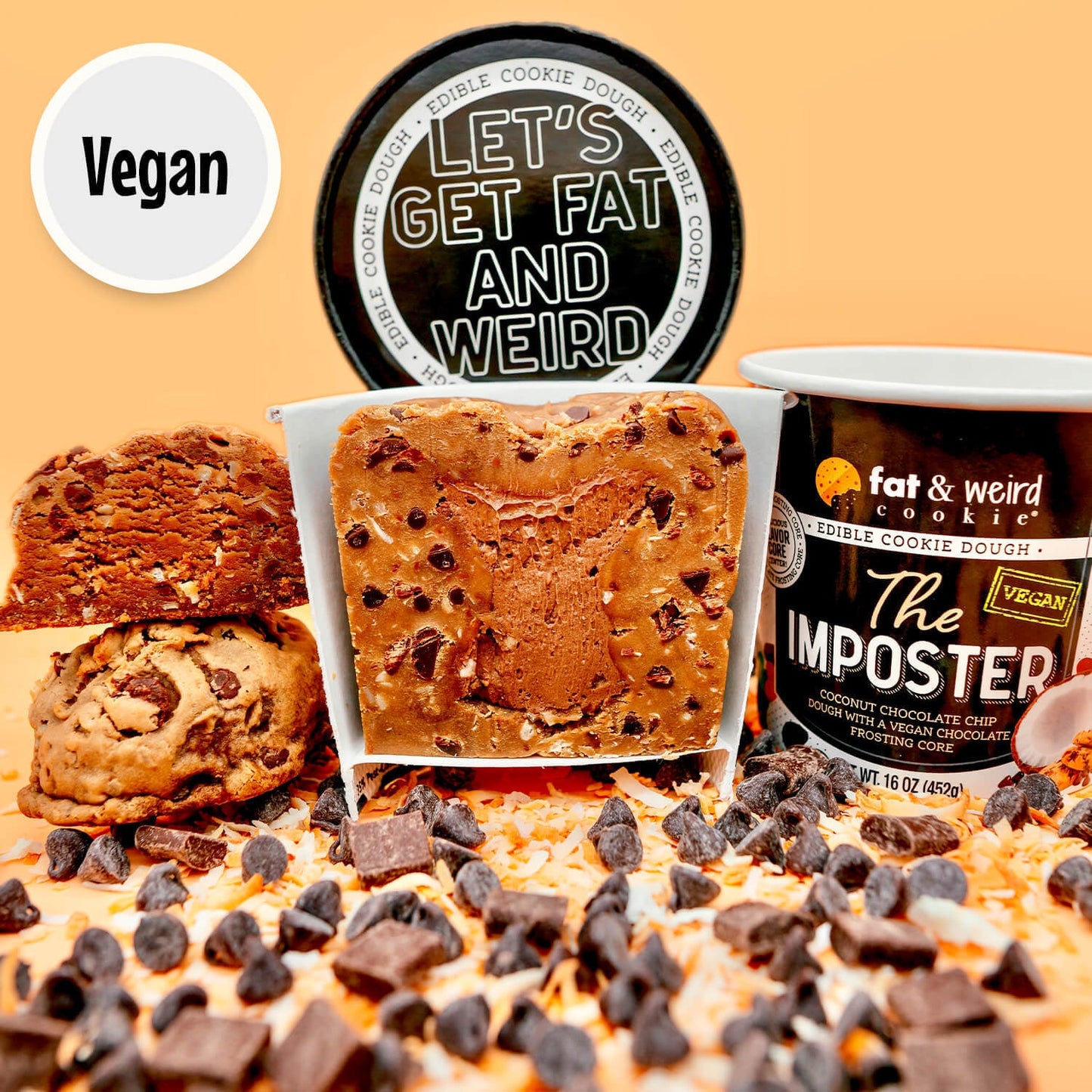 🚀 Free Shipping

Free US shipping on orders over $75 with code FREESHIP.

🍪 Hot & Fresh

No joke! All our cookies are made fresh to order daily.

🏆 BEST In The World

We make the best and most creative cookies in the world!